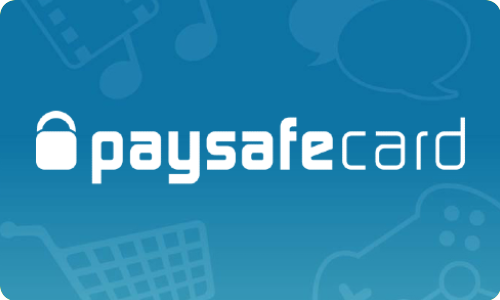 Select the desired amount

With paysafecard, you can pay for all your online purchases without using your credit card or bank account. And, on top of that, your payments are anonymous and of course secure! 
So, are you a sports betting fan? Addicted to online shopping? Passionate about online games? Then the paysafecard is made for you! As well as movie lovers, music lovers and social network enthusiasts. But how do paysafecards work?
Using your paysafecard is as easy as 1-2-3! You just have to credit your Paysafecard account with the amount you desire. You can choose to buy an online paysafecard refill from 10 to 100 euros. You pay the amount of your paysafecard voucher by credit card or PayPal and will receive your paysafecard code in less than a minute.
This paysafecard code is a PIN code made of 16 digits. Once your payment has been validated, the code will be sent to the email address you indicated. You can then use your paysafecard on the internet to make your purchases in complete security and confidentiality.
If the credit of your paysafe card is used up, no panic! You can buy a paysafecard reload online 24/7 on ReloadNow. If you had first opted for a 25 euro paysafecard, you can change your loading and buy a 50 euro paysafecard online or pick any other value you prefer. The choice is yours! 
Do you have a birthday coming up or do you want to give a gift to someone you know? Consider buying a paysafecard online for one of the four amounts available. This way, you can be absolutely sure to delight anyone. 
A small tip from us, make your life easier by creating a my paysafecard account. This way, you'll be able to see in real-time the remaining balance of your paysafecard recharge and to manage all your PIN codes. 
How can I use my paysafecard code?
In general, it is not necessary to activate a paysafecard code in order to use it for a payment. 
Once you decide to use it, simply go on a supporting website and enter the 16-digit paysafecard code where indicated. Your code will be in the email that we sent to you after your purchase.
Some paysafecard users, however, like to have their various paysafecard reloads attached to their my paysafecard account. If this is your case, here is how to proceed to add and use it: 
Go to mypaysafecard.com and log in to your account 
Enter the 16-digit code of your paysafecard that we delivered you by email in the dedicated space.
Go to a merchant site that accepts paysafecard as a payment method and select paysafecard in the check-out
Log in to your my paysafecard account and confirm your payment 
That's it! paysafecards are ideal for your internet transactions. They offer you an extra security barrier, as they hold very little information compared to a classic bank card.
Can't find your code in your mailbox? Don't forget to check your spam!